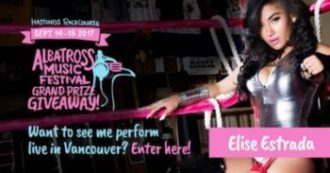 It's Official!!!
Elise Estrada will be live in concert, headlining The Albatross Music Festival in Vancouver, Canada! Special guests FAR EAST MOVEMENT, along with many stars from Korea, China, Hong Kong & Taiwan!
The Albatross Music Festival is the first ever all Asian Superstar Concert Festival in North America and we are proud to be a part of it!
The Festival in Vancouver is happening September 14th AND 15th, with Elise Estrada performing on the Friday evening!
Enter to win free Flights, Hotel Accommodations, Limousine, and Meet & Greet VIP